Get More for Less
with the one in
Body Sculpting
Burn 30% more fat and build 25%
more muscle with zero effort or downtime..
Get More for Less with the one in Body Sculpting.
Burn 30% more fat and build 25% more muscle with zero effort or downtime..
EMSCULPT NEO is the first and only nonsurgical fat reduction and non-invasive body shaping procedure that combines 2 energies for simultaneous fat elimination and muscle building in a 30-minute session.
This is a fat burning treatment that not only helps you to lose fat, but also has body sculpting and body shaping properties. It is more effective to reduce body fat while toning your muscles. The end result is more fat reduction and muscle growth than any single gold standard product, for less time and less money. 
60% of women and 90% of men are interested in one or both a fat reduction and muscle toning treatment, both which are offered by EMSCULPT NEO.  As such, it is considered as one of the most preferred slimming treatment in KL for those wanting to lose fat and reduce weight.
How Does EMSCULPT NEO Work?
EMSCULPT NEO is based on an applicator simultaneously emitting synchronized RF and HIFEM+ energies to burn and reduce fat.
Due to the radiofrequency heating, the muscle temperature quickly raises by several degrees. This prepares muscles for exposure to stress, similar to what a warm up activity does before any workout. In less than 4 minutes, the temperature in subcutaneous fat reaches levels that cause apoptosis, i.e. fat cells are permanently damaged and slowly removed from the body. This process is what makes EMSCULPT NEO so effective to reduce body fat. In fact, clinical studies showed on average a 30% reduction in subcutaneous fat.*
Painless, as it is a non-surgical and non-invasive treatment
Short and convenient treatment time
Precise control over fat burning and muscle building
No recovery or downtime
Noticeable results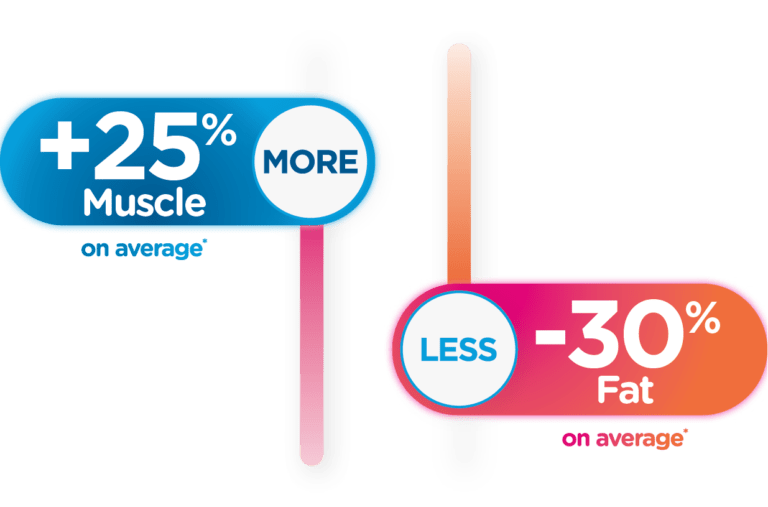 Get Complimentary X-wave (to remove fat and toxins) treatments and Up to 50% OFF Emsculpt Neo Package
Emsculpt Neo Treatment Details
What areas can be treated with EMSCULPT NEO?
EMSCULPT NEO can be applied over the abdomen, buttocks, arms & calves.
Does EMSCULPT NEO really work?
Yes! EMSCULPT NEO and the embedded high intensity magnetic field (HIFEM) technology has been clinically tested for safety and efficacy through seven clinical studies. Moreover, 30 scientific publications make HIFEM the most intensively researched body sculpting and contouring technology since its introduction in 2018.
What does EMSCULPT NEO therapy feel like?
You can feel intense muscle contractions together with a heating sensation in the treated area which is comparable to hot stone massage.
What is the downtime of EMSCULPT NEO?
As this is a nonsurgical fat reduction treatment, there is no downtime with this procedure. You can get back to your daily routine right after the treatment.
What happens to the fat that is eliminated by EMSCULPT NEO procedure? Will the fat come back?
After the fat burning treatment, the dead fat cells are flushed out from the body through metabolic processes. The rest is flushed out by the body. It is
fastest way to lose weight.
Is EMSCULPT NEO painful?
EMSCULPT NEO slimming treatments may feel intense but should never be painful. 
How does EMSCULPT NEO compare to liposuction and non-invasive device alternatives?
EMSCULPT NEO does not compare to liposuction as EMSCULPT NEO is a completely non-invasive procedure. It does not require surgery, needles, anesthesia, or any downtime.. There is no other device in the aesthetic field that helps to both reduce body fat and tone muscle in a single treatment.
Hear What They Have To Say About Us!​
"Cannot say enough good things about Skin fairy Skin Care! I'm so glad I found a high caliber skin care salon with an honest, helpful staff and comfortable setting. Already looking forward to my next appointment!"
" It was such a relaxing, informative, and beautiful facial treatment. My skin is still so glowy and smooth today! I'm looking forward to coming back next time I am in the city!"
"These facials have massively changed my skin for the better"
Sep 18, 2020
review on service
It's always such a pleasure receiving a facial at Skin Fairy's Skincare. Very relaxing environment, great service, top of the line equipment and professional staff! Would highly recommend!
Sep 18, 2020
review on service
i received a wonderful facial that was both activating for my skin and relaxing for my soul! Thank you so much!
Sep 18, 2020
review on service
So relaxing, From the beginning to the end. My face looks great, Skin Fairy really takes great care of your skin. I can't wait to return.
Sep 17, 2020
review on service
Best facial treatment ever!